Profile: Penh and Lyna Lo
The key point to the below - as you weed out all the specialized terms - is that there is at least one legitimate Network Marketing outfit which isn't simply a pyramid scheme. When you deal in real products with an actual guarantee - then you get out of the "scam" territory and into actually helping those around you to improve their lives. Do your own due diligence. Then decide for yourself. (From the Power of Shaklee, April 5th 2012)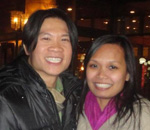 A Dream That Can Be Shared
Penh and Lyna Lo (Senior Executive Coordinators, MN) were looking for a company they could trust. Through a friend of a friend, Penh learned about Shaklee and after a lot of questions, they joined in September 2011. Within their first six months, they were promoted to Senior Executive Coordinator and earned $9,000 in FastTRACK bonuses, two trips and a Dream Car bonus. But more than that, in Shaklee, they have found a company they can share with others.
In February of 2008 we had less than $500. Our oldest was 11 months old, our financial world was imploding and we were desperately looking for an opportunity. Penh dove into the network marketing industry and started to rebuild our family's finances. We became involved in a travel company, and although we made quick cash, our friends and family never experienced the same success that we did. We felt that we had sold them a dream of financial freedom that would never become their reality.
After that experience, Penh promised our family and friends that he would always
do his due diligence before sharing an opportunity with them
and he personally apologized to everyone he sponsored and their downlines. Penh reentered into the work force and for over three and a half years, while working full time, he thoroughly researched the network marketing industry, went to a lot of presentations, and looked at a lot of companies. Penh was introduced to Shaklee by a woman who was not in Shaklee and through her, he met
Keith Snelson (Associate, MN)
who introduced him to
Muzafer Najfi (Senior Executive Coordinator, MN).
Penh attended one of Muzafer's presentations and by chance,
Bo Short (Master Coordinator, VA)
was also presenting that evening. Penh was one of only two guests there, but he believes he was in the right place at the right time. The other guest left, but Penh stayed, listened and did his due diligence. After the presentation, Muzafer spent another two hours with Penh answering all his questions. Then we took another two and a half weeks to
research Shaklee
and made the decision to sponsor in September 2011. We've made some sacrifices but it was well worth it. Almost seven months later, we're experiencing the success we were looking for…with Shaklee. Penh was able to replace his salary, we qualified for two trips – the Dream 2012 Incentive Trip to the Mayan Rivera and the Spring 2012 New Directors Conference, and we earned a Dream Car bonus. But the
best
part is that other people on our team are experiencing success as well! Thanks to Shaklee, we are able to offer a
real
opportunity to our family and those who trust us.
Additional References:
PDF: The Dream Plan - How it Works
PDF: Rewards Brochure
PDF: First Step Brochure
Presentation: Live Your Dreams Narrated Presentation
Video: Your First 48 Hours
Shaklee Link to Join Now
Any questions? Contact Us
We want you to succeed. So if you have any questions, here's the number and name of the person to call:
Scott Batts - 573-473-6148