One week of regular use shows results. And some of my residual skepticism is laid to rest.
At Cinchclub.com, I recorded my measurements, a few days after I actually started the diet. (This is accessible there under Your Profile.)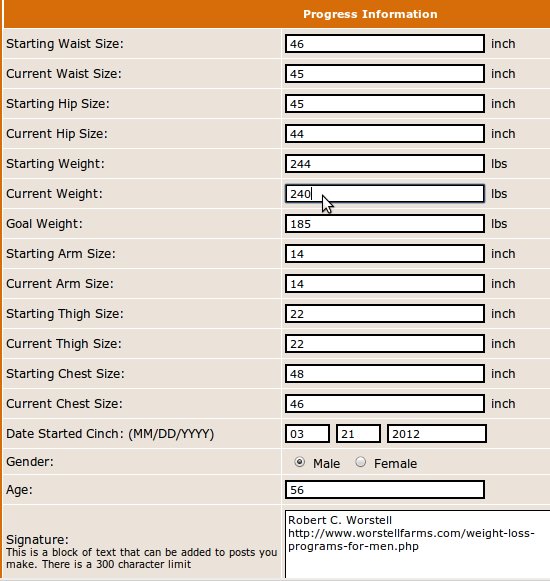 Today, after 10 days on the diet, I revisited this page. (Why not a week? Because I've been busy - all that energy I have now.) And you can see by the screenshot what my progress was. (That picture can be opened in a new window - right click - to see it larger if you want.)
It's not that I lost 4 pounds, but also that some other sizes started shrinking as well. What I measure for my waist is actually my gut. That's what I want to lose. When my pants get noticeably too loose, then I'll know it already. (I have a target pair of pants I want to fit back into, BTW. A real acid test.)
The surprise was that I'd lost some inches here and there I wasn't noticing. Arm and thigh stayed the same (like I said, I work on the farm every day - and don't really want to lose muscle) but my chest got smaller as well as my hips and waist.
So this is all good news. And I'll celebrate by - staying on the diet. Well, I'm going to check out some new shake recipes and maybe invent some more.
I went ahead and got that "Magic Bullet" blender. There were others on the market, but they were either harder to clean out or more expensive with fewer features. Main reason I switched from my earlier one was that I had to use a tall (20oz.) glass and hold onto it while I mixed - since I only got a stirrer with a motor attached. With the "Magic Bullet", you simply pour everything into one of their clear plastic jars, screw on the lid and press it into the mixer. Easy to clean, plus you can do it one-handed. (So naturally, I promote what works for me.)
More information about the Cinch Inch-Loss Diet Plan can be found as linked below:
Learn about the real science behind the Cinch Diet Plan
|
Limited time offer: get one month free!
Earn Extra Income While You Lose Weight
And more information is available from Amazon about that Magic Bullet: