Toxin-Free Pest Control - Home Remedy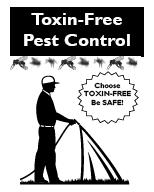 Do it yourself - Very economical
Equipment needed:
Garden hose
Ortho sprayer
Step 1: Mix your concentrate
1½ parts Basic H² (or 3 parts Basic H Classic)
1 part Basic-Germicide
Steps 2: For Outdoor Use:
Fill Ortho Sprayer (or similar) with concentrate
Set the dial selector at 2 … you will automatically spray a dilute mixture of 2 tablespoons (1 oz.) of concentrate per gallon of water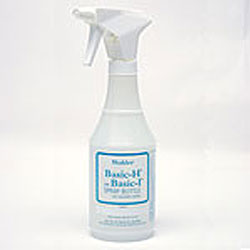 For Indoor Use:
Fill 16 oz. (500 ml) spray unit with water
Add ¾ teaspoon of concentrate
Where to Use
On lawns for control of fleas, ticks, chiggers, and mosquitoes
On patios & porches for control of flies, spiders & other insects
On houses as a house wash and pest control combined
On dog houses, dog beds, and kennel runs
This mixture is also an effective spray to kill wasps
Kills lice and fleas, and is effective as a fly spray on animals: cattle, horses, dogs, chickens, turkeys, pigs, cats (do not get in the animal's eyes)
Controls bag worms and other insects in cedar, pine, and nut trees, etc.
Spray as frequently as needed
Most pesticides are guaranteed to work, so why not use them?
The answer is simple … agents toxic to cellular tissue can have devastating effects on the respiratory system, nervous system, and the immune system:
1. Once inside the brain, toxins can alter the ability to concentrate & can lead to nervous system disorders and permanent learning disabilities
2. Toxins overload the immune system & lead to less resistance to colds, flu-like systems, etc.
3. Toxins cause sensitivity of the respiratory system, and lead to proliferation of allergies and asthma
4. Toxins have been linked to liver & kidney damage and many forms of cancer. Recent studies by the National Institute of Health & Safety and the National Cancer Institute, show that leukemia risk increases greatly for children and adults where toxic pesticides are used in the home and garden. A cancer journal reported children under ten, exposed to toxic pesticides in the home or garden at least once a month, have a 7x higher incidence of leukemia.
5. Some toxic pesticides can produce demyelination in nerve bundles and the spinal cord - this can lead to M.S. and paralysis
What are Your Choices?
Are people actually willing to take this risk and contribute to this suffering in order to kill ants, fleas, spiders, moths, and other insects? Certainly, this is sufficient confirmation to persuade every reader of this brochure to never again purchase toxic pesticides.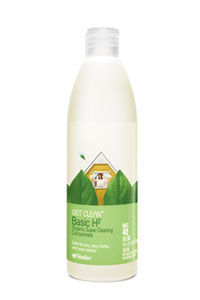 Basic H² is an all organic, biodegradable wetting agent … actually making water 300 times "wetter" - it reduces water tension and also improves assimilation by chemically enabling water to bond better with anything it touches. It is concentrated and economical. It was developed in cooperation with nature, as are all Shaklee products. When mixed with water, Basic H² delivers an immediate wetting (surfactant) action, penetrating dirt and emulsifying grease and oil. For this reason, it has been used for almost 50 years as a general purpose cleaner.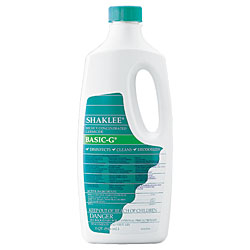 Basic-Germicide, as its name indicates, is a versatile, non-polluting germicide, which is totally biodegradable and will not hurt the environment.
Does it Work?
Since 90% of insects have an oil coating, Shaklee Basic H², as a wetting agent, penetrates the outer shell and actually suffocates the insects. Insects eggs are softened by the spray, which prevents hatching.
NOTE and disclamer: Officially, Shaklee Corporation markets Basic H² as a Household Cleaner and Basic-Germicide as a Highly Concentrated Germicide. These pest control recommendations are not published or endorsed by Shaklee Corporation, but have been gathered from environmental field experts. A surfactant/germicide combination will accomplish similar results on insects. But can you find a pair which work together and are non-toxic as well as biodegradeable?

---
More information about Basic H is available as linked below: 



Efficient, powerful, safe, biodegradable, and economical, the world's most versatile cleaner.

Size: 30 gallon




Size: 32 oz.




Efficient, powerful, safe, biodegradable, and economical, the world's most versatile cleaner.

Size: 5 gallon